I have figured out the formula for finishing a 100-mile race. Pine Creek is the 3rd time I have completed the 100 mile distance. The key to all 3 finishes was one underlying theme. Surround yourself with incredible people! I know that's not easy, and it can be total luck. Don't get me wrong, there is lots of training you need to do, but that is just a matter of putting in the miles. If you can make friends with complete strangers on the course, find an incredible pacer, or put together a great support crew, you greatly increase the odds of finishing. I have been lucky enough those things happen each time. You are going to be battling your thoughts in the race. Having somebody there to talk with eases the pain. They are there to help push the pace or slow things down if you're going too fast.
Why is it that in an ultra can you make friends with complete strangers? Is it the fact that you are facing a common goal and you both want to succeed? You create an instant bond because of the shared suffering. So the biggest thing I did RIGHT was to make new friends. It has helped me EVERY SINGLE time in a race, except for Vermont 100 where I was gifted the ultimate pacer by chance.
The other thing I really liked about this race was having a pace chart handy. From this point out, if it is a 100-mile race, it is critical to have every single detail of your race in an easy-to-look at Excel-like grid that is laminated. I am going to create one of these cards for every race at this distance.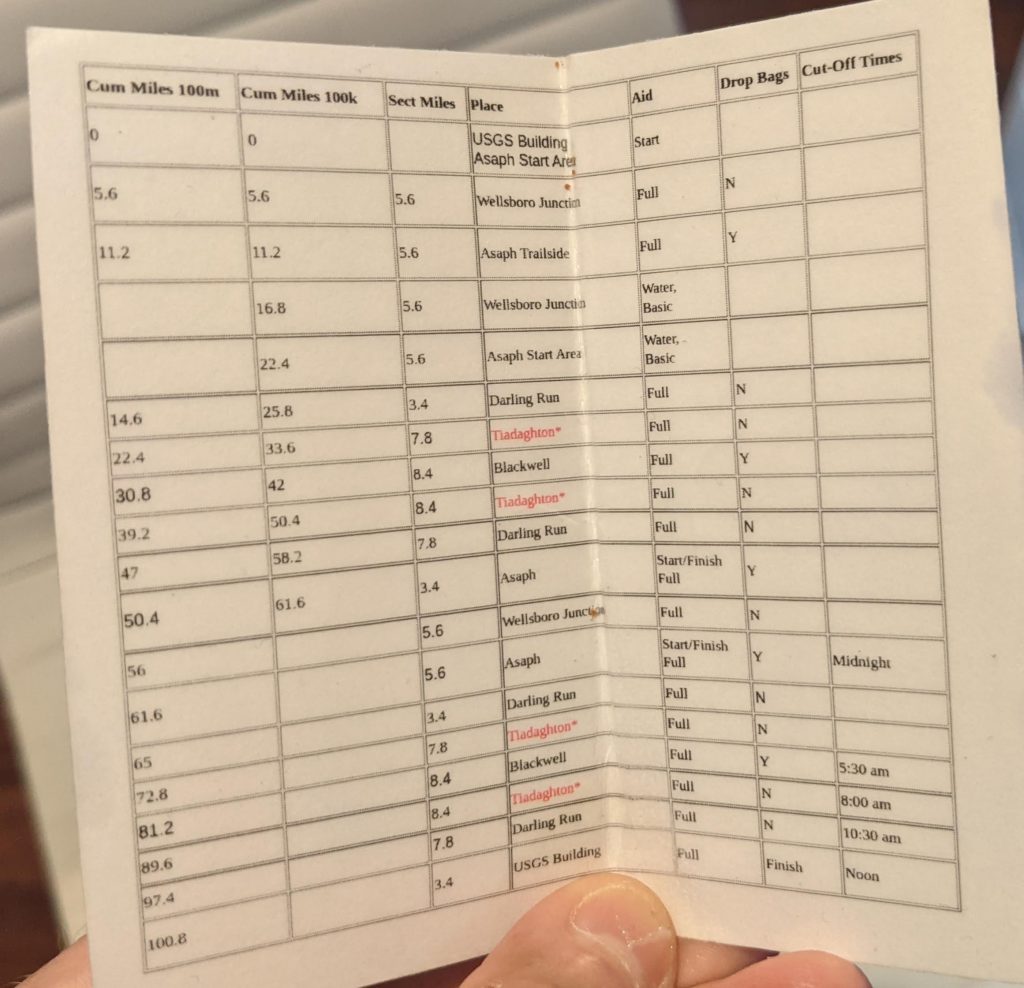 The other benefit of running with a friend is you hear about new podcasts and books that are worth checking out. You learn about books and podcasts that might interest you and would never be exposed to. You hear about the most impactful material that is in that person's life.
I wouldn't say I helped Michelle as much as she helped me. We completed it together. In my first hundred, 2 people stayed with me to get me to the finish. I remembered how much of a difference that made to have people to chat with. It helps with your mental state and I couldn't imagine doing it alone. It was nice to go through the night with someone on their journey.
I am 100% sure Michelle was more than able to have completed it alone, but she was also kind enough to share the experience. Having someone to run the race with also keeps you honest about the pace. We would take turns alternating between a run-walk when combo in the later miles to keep under our pace target. It's one thing to run 100 miles on your own, but an experience shared is so much more enjoyable.
Some of the things that I would say went wrong in the race were little slip-ups.
I skipped a shoe/sock change at mile 30-40 miles. There was gravel and dust that was getting in the top part of my socks that started to cause a rash. I should have cleaned and swapped socks sooner to prevent that. I also didn't have enough caffeine intake later in the race and I was struggling to keep my eyes open. I finally got a cup of coffee at mile 90 and it made a huge difference. Maybe I can bring my own instant coffee?
I should have had a drop bag at BOTH aid stations, not just the Blackwell. There is something about having access to YOUR stuff that gives ease of mind. Something in the bag you can look forward to that is not at the aid stations. I struggle with knowing what to put in each bag so I opted to put it all in one, which really didn't work out.
I ran out of water between the longer aid stations, be mindful of a hot hundred and ONLY using handhelds, they actually might not be able to hold enough water if it's greater than 8 miles between aid stations. I am just grateful the weather wasn't too intense that day.
What would I have done differently? Not too much, my feet took a beating and I am glad I went with the shoes that I did. I switched out 2 pairs of Altra Torin 5s which felt great and caused zero hot spots. 100s can be extremely lonely, and if you get lucky enough to find a person running a similar pace it is worth staying together. You motivate each other to push when the pain can be unbearable. If I had to do anything different I would have lowered my expectations of a finish time when on a new course.
How would you know what to expect? My "A" goal I realized was going to be almost impossible to hit. My "B" goal was under 24 which I achieved. My "C" goal is to make friends and have fun, but my "C" goal was actually the most important goal. I am GRATEFUL for the experience and will be smiling for the next few weeks with the wonderful memories replaying in my mind. I still feel new to the 100-mile distance and feel like I have a lot to learn. Finally, don't put your number on your shirt, I was an idiot and switched shirts and forgot to move my number. It should always be on your pants! How could I forget that!
Final thoughts: I should have never told people it's going to be easy because it was all flat. I completely underestimated the distance and the terrain. The course was beautiful as you can see from the photos. Would I do the race again? I am not sure… I think I enjoy a more rocky and technical terrain over the endless flat roads. It was great, don't get me wrong, but I enjoy an actual hill every now and then.
More videos and photos can be found here: https://photos.app.goo.gl/eA6UWL9FSdMsfC1F6