I had my first major accomplishment this year, besides breaking my PR for the 5K, I finished 3rd overall in a race. That race was the Oktober Lauf Fest at Pennypack park. I had signed up for the Oktober Lauf Fest, mostly because I thought this race would be similar to the Sloppy Cuckoo which I had a great time running. See I've been on the hunt for as many trail runs as I can find in the Philadelphia area. Trail running has become my new love interest. The sloppy cuckoo was 11 miles trail and 2 miles paved bike path. I was expecting the Oktober Lauf Fest to be a similar type of race, it's my fault for not reading the course description well enough. Regardless, this ended up being without a doubt the most unique race/run experience I have had to date.
I started off changing my normal plan of attack, instead of trying to sprint ahead of the pack. I let a large herd of people get in front of me, physiologically the feeling of passing people is better then getting passed. Going out slower helped me not get overly excited and I ended up pacing myself properly. The course ended up mostly being run on cinder/loose gravel, but it was a relatively flat course. I was able to catch up to the majority of people in front of me.  Passing several groups I finally ended up running with two guys for the majority of the race (Paul Peters and Chris Roberts) . I had headphones on so I didn't talk to them, not like I would be able to hold much of a conversation running a 6:20 – 6:30 pace. So around the 7 mile mark I pulled off my headphones and asked "Do you know how many people are ahead of us"? There response was "two – and one of them is a girl".  It was at this point that a new motivation swept over me, realizing that I was fighting for 3rd place overall. I knew at this point I had to do everything I could to hold this position. I stayed directly behind one of the two guys, pacing him as best as I could and just conserving my energy. Having never been in a situation like this I didn't know what to do, at what point should I make a break for it. My legs felt good, I wasn't short of breath and didn't feel like I was giving it everything. I had to make a decision as to what would be the best time to actually push it. Keeping a careful eye on my Garmin GPS watch, I could see we were closing in on the finish. I started to run directly next to the person I was pacing (Paul Peters).  Then with a mile a half left I started to push ahead to see if he would keep the pace. I started to maintain a slight lead. It was when I had only a quarter of a mile left I turned to an all out sprint. I took 3rd place overall, and 2nd place male.
This is why I like the smaller local races, not only are they cheaper, but they provide a different level of excitement over the larger races. They also provide better food and have a more personal feel.  Yes, I know, it's not that large of a race and that's why you did so well. Regardless there was still 164 people, and I still ended up running a 1:26:34 for a half marathon. I will never forget this race. A big thank you to the race director and everyone who helped put this race together.
The prize for 3rd place overall was a German cuckoo clock.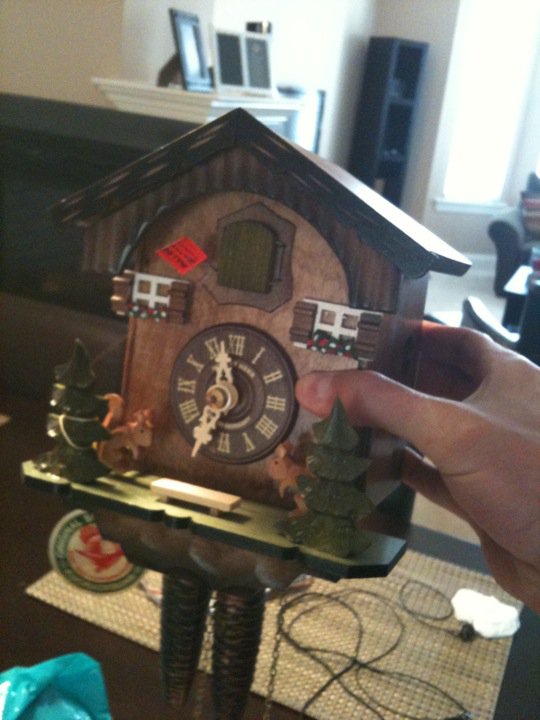 Please check out more of their races at http://www.uberendurancesports.com/