The Back on My Feet organization had their 2nd annual 5 mile race, on West River drive, this Saturday.  If you are unfamiliar with BoMF, the idea behind the organization is using running, to turn your life around.  They have partnerships, with homeless shelters, in multiple cities across the US.  They provide housing resources, jobs, and support to homeless men and women, and use running as the tool to keep them motivated and sticking with the program.
As much as you think running can be a solo activity, the BoMF organization shows just how much the support of others is needed to be successful.  That's the whole idea behind the program, people who have found running using it as the tool that helps change the lives of those less fortunate.
Conditions for the race this year were a little on the cold side for March.  That still didn't stop over 700 people from coming out for the event.  The course was perfect, it wasn't the typical boring out and back along West River drive.  They used the large hill located on Lansdowne Drive, which you get to from Sweet Briar.  You ran past the Please Touch museum, then headed back down to West River drive via Black Road.  This adds an extra element of speed and strategy as you had to factor in the climb, which can be brutal if you haven't been doing any hill work.
They have definitely attracted some faster runners this year, which is typical for a race in its second year.  The top time last year was only 31:13, this year it dropped down to 26:59.  I wish I had a chance to get in some more speed work cause I might have had a shot at one of the top 3 spots.  I've finally gotten over a recent injury so my training volume has been low.  I was still very happy with a PR in my 5 mile time of 31:05 and taking 2nd place male 30-39.  They gave out some nice medals to all of the age group winners.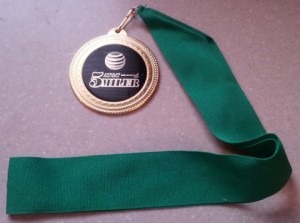 I have to give credit for At&t of doing a great job of supporting the race.  They had iPads at the end which allowed you to quickly look up your results to see how you did in the race.  They also offered hats, t-shirts, head bands, and even had a photo booth to get a pic with your friends.  I took my second best buddy in with me for a photo, and my wife was also there to support me at the race.
Back on My Feet is about support.  Everyone needs it even in a solo sport like running.  Everyone knows the benefits of joining a running club,  you can meet new friends and pick up running tips.  Except the Back on My Feet running club you get more than just faster times in your 5K.  They give people hope, opportunities, housing, employment and so much more.
If interested in volunteering and running with BoMF you can sign up on their site located at http://www.backonmyfeet.org/