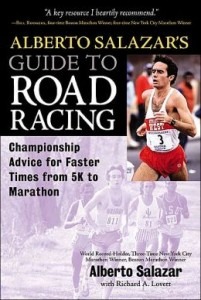 The majority of the reading that I've done usually involves technical books for my day job.  I've recently started to extend my library to include some running books.  One of the things that I regretted about high school is never going out for the track team.  I wish I would have gotten to experience coaching from someone who's either run competitively in the past or had an extensive running background.  Since that's no longer an option I did the second best thing, get a book from someone who does coach runners.  I picked up Alberto Salazar's Guide to Road Racing, and all I can say is I wish someone would have handed me this book years ago.  Even as someone who's been running for over 14 years I've pick up a lot of helpful tips.  I know this will be my go to reference for future questions and pacing strategies.  I've actual read the book with a notepad because there's just so many important tips the author makes.  The author knows what it's like to deal with injury and the training necessary to be at the highest level of competition.  I'm just glad that I did come across this book so I can try to change some of my bad habits and fine tune my training.  Either way the book is worth every penny.
With this season I broke one of the biggest personal barriers, the sub 6 minute mile.  I've changed quite a few things since last year and I've improve my 5K time and overall distance.  My current PR for 1 mile stands at 5:17.  I'm looking to improve that and hopefully run my first sub 5 minute mile.
Things I have done (listed in order of how effective they have been):
form - pose running
Increase turnover rate
Intervals on treadmill
Hill work/Repeats
Foam roller at night
Shoe change for different distances
Extended length of trail running on weekends
More upper body work to strengthen core.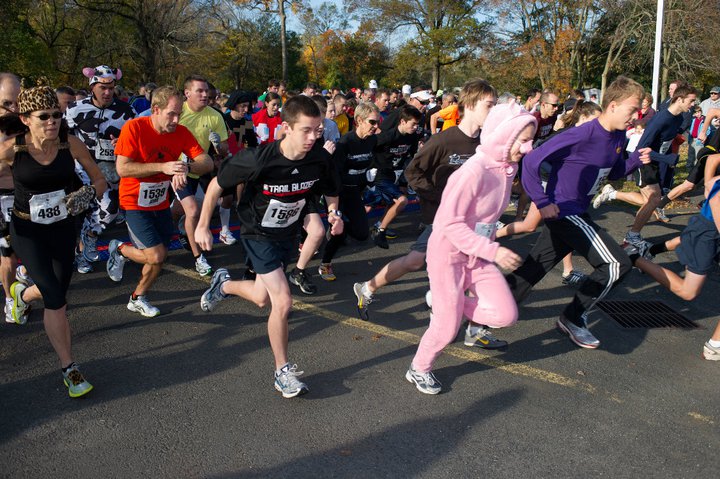 The skeleton skurry is a great little race that takes place in Hatboro, PA.  The weather was nice that day, only a little on the chilly side.  Running a 5K isn't the most difficult task but just imagine having to do it in a costume.
They provided awards for:
OVERALL MALE AND FEMALE (5K) - TOP 3
AGE GROUP AWARDS - (1st, 2nd, and 3rd)
U13, Teens, 20's, 30's, 40s, 50s, 60's, 70+
COSTUME PRIZES, TOP 3:
Best Costume - Adult and Child (3)
Scariest
Funniest Costumes (3)
Best Family (1)
Group Costumes (1)
This was my first race where I actually received an age group award.  I ended up finishing first for 20-29, and 4th overall.  My only major complaint about this race was that the course wasn't that well marked.  It takes place in the surrounding neighborhods starting and finishing at Pennypack Elementary School.  Really, I should have come in 5th place because the kid who was in front of me ended up running the wrong way.  I know they received complaints from other runners so hopefully for next year it will be better marked.  They gave some nice awards, dinner for a family of four to McDonald's (not my first restaurant of choice), a free month gym membership to the Hatboro YMCA, and 10 gift certificate to Dick's sporting goods.  They even snapped a picture of my puppy who was dressed up for the occasion: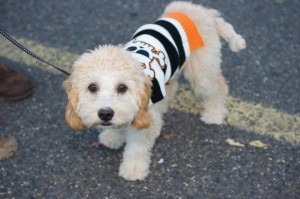 Pictures from the event
Page 1